Depression Self Help:
Music For Depression

There is a very special type of music for depression that is very powerful for the mind and concentration.

First we have to understand that one of the key issues with depression is that it makes people emotional. Emotional arousal is continuously on the highs or lows.

There's a wonderful way to stay calm, cool, and collected. Music…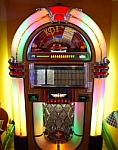 Music Can End Depression

Music can move crowds, it can bring people together, it can motivate you to workout harder, and faster. Music for depression can also take you out of depression. More on music for depression after I explain the following.
Emotional arousal is like when you start your morning with two cups of coffees. Unless your body has a developed a tolerance for caffeine, you usually feel high energy and very talkative. The caffeine effects eventually wear down, and if you don't recharge your coffee cup, you experience an energy crash.
Have you ever been at work, run out of coffee, so you go to other offices looking for more? Your body knows it wants more. It wants to stay high. It's addicting.
Depression does the same. Depressed people cry easier during romantic or sad movie scenes. They tend to feel overjoyed when really good news comes. Almost a feeling of euphoria. They tend to spin endlessly with negative self talk, guilt and blame. This is depression working on creating emotional arousal.
For the most part, depression usually keeps a person in the low spectrum of moods. And many things happen to convince a depressed person to make them sad, and even anxious.
Music for depression is an excellent depression self help method.
Music For Depression Also Boosts Intelligence

Music for depression, Baroque music at about 60 beats per minute creates the alpha mental state. The soothing relaxing beat not only relaxes the mind and body, but it synchronizes the right and left brain to boost creativity.
In the mornings I wake naturally (no alarm clocks) and refreshed after my usual needed sleep. I usually need about 8 and a half hours. I get up, heat up some water for my green tea, and go to my meditation room--a small office. I meditate for a few minutes, clear my mind, and create my alpha state of mind.
I then play baroque music which usually keeps me in the Alpha state for hours at a time if I wanted to. Because I first clear my mind, the baroque music helps me work for hours without interruption in energy levels. My body remains relaxed, and my mind is in a creative state.
After about an hour's work, I have a hardy breakfast to fuel my body for continued work. Later, I restart my work by first doing a quick meditation and continue listening baroque music. Baroque music increases people's ability to learn and retain information much faster.
I am living proof and will assert to have learned several languages quickly using Baroque music (I used the same music for depression). Some include Turkish, Romanian, Bulgarian, German, Italian, and Portuguese.
I have lost some of these languages, as I don't practice them anymore, but I have easily recaptured the languages when my interest peaks to relearning them.
I still retain lots of German and Italian. Of course English and Spanish are my first languages.
I recently learned French in four days. Yes, this is for real… My six year old son started first grade in a French immersion school. I had to make sure I can help with his homework, and help him keep up with the practice :-)
I have no special gifts for languages or any other subject. As a matter of fact, I used to be an average student in high school.
Until I discovered the learning benefits of baroque music.
I learned faster and retained information with "Superlearning" technique. This technique involves learning by combining meditation and the right type of music. I have taught myself many languages, and other subjects with this method. It is truly amazing.
You don't have to use the Superlearning technique to get benefits of Baroque music. This could also be called music for depression.
Music Makes You Healthy

Baroque music at 60 beats per minute increases your capacity to heal. Studies have shown that the right kind of music and sounds can improve the ability of hospital patience to recover faster.
Patients will look as if they are very passive, but in fact they are very mentally alert, but with a relaxed body.
Read this except from The New York times entitled: "What's the buzz? Sound Therapy:" For decades people have relaxed and meditated to soothing sounds, including recordings of waves lapping, desktop waterfalls and wind chimes. Lately a new kind of sound therapy, often called sound healing, has begun to attract a following.
Also known as vibrational medicine, the practice employs the vibrations of the human voice as well as objects that resonate - tuning forks, gongs, Tibetan singing bowls - to go beyond relaxation and stimulate healing.
"It's like meditation was 20 years ago and yoga was 10 to 15 years ago," said Amrita Cottrell, the founder and director of the Healing Music Organization in Santa Cruz, Calif., and the leader of the class that Ms. Harada attended.
While many people are only just discovering it, sound healing is actually a return to ancient cultural practices that used chants and singing bowls to restore health and relieve pain. It is often introduced at mind-body or wellness festivals. Thousands of healers from almost every state and many countries have created Web sites about sound healing.
Schools for certification have sprung up too, though certification is hardly standardized. The healers include medical doctors, academics and people with no medical or scientific background at all.
What they have in common is a belief in the potency of sound to not only promote relaxation, but relieve ailments, from common aches and pains to the anxiety that accompanies chemotherapy.
People who have tried sound healing say they like it because it is noninvasive and relaxing. And lying on a cushion, exercising only the ears, is decidedly easier than stretching into the downward dog pose.
But can chanting "om lam hu" or blowing into a didgeridoo really loosen a stiff neck?
No controlled clinical trials have been done to show that sound healing works, said Dr. Vijay B. Vad, a sports medicine specialist at the Hospital for Special Surgery in Manhattan and a doctor for the P.G.A. Tour. But those who try sound healing may feel their pain diminish, because pain is notoriously subjective, Dr. Vad said. Some 35 percent of people with back pain find relief from a placebo, he noted.
Music Improves Concentration

When I first introduced Baroque music to my wife, she was incredulous. She had to work on a report that would take her days, and was frustrated and had to take brakes often.
I told her about the music, and played it while she worked. When I checked on her three hours later, she was amazed, and still plugging away with more mental energy that she rarely had experienced before.
Using music to diminish your emotional arousal doesn't mean you don't feel anything…
On the contrary, your feelings are more real and fulfilling. You enjoy life more, because you can enjoy and trust your own feelings and emotions.
So give it a try. Music for depression, specifically Baroque music at 60 beats integrates your alpha consciousness and keeps your emotional arousal at a steadier pace.
Here are some examples of great soothing music. Try Corelli's Concerti Grossi, Op. 6, Violin and Orchestra in No. 2, 8, 5, 9. or J.S. Bach's Fantasy in C Minor and Trio in D minor or Vivaldi's Five Concertos for Flute and Chamber Orchestra.
Live healthier, happier and enjoy the music.

Music For Depression Examples

Here are some examples of great soothing music. Try:
Corelli's Concerti Grossi, Op. 6, Violin and Orchestra in No. 2, 8, 5, 9. or J.S. Bach's Fantasy in C Minor and Trio in D minor or Vivaldi's Five Concertos for Flute and Chamber Orchestra.
Live healthier, happier and enjoy the music.

Return from Music For Depression to Depression Self Help Info Homepage
Have A Great Story About This Topic?
Do you have a great story about this? Share it!
What Other Visitors Have Said
Click below to see contributions from other visitors to this page...

Music Medicine

I can't express the importance of music to me. I don't ask to be happy. I just don't want to be depressed. I spent two months in mental hospital for …